Homemade Wood Polish/ Conditioner
I am ALWAYS looking for ways to replace conventional, standard cleaners in the house and I came up with this idea last Fall of making my own wood polish/ conditioner using coconut oil and left-over coffee grounds.  It works BEAUTIFULLY!  I forgot I had it under the kitchen cabinet until a few days ago.  I had several areas in the kitchen (window trim, wooden dog door between kitchen and living room and cabinets) of wood needing a face lift.  This little recipe worked its charm and gave the wood a new look WITHOUT all the yucky, toxic ingredients of most furniture polishes and conditioners. 
I bought some great wooden bowls at the local thrift store the other day, but they needed a little help.  I could see their potential, so I bought them for 25 cents each and brought them home for a natural face lift.  I feel comfortable using this recipe on items that we will eat off of because of the natural NON- toxic ingredients. 
Below are some of the bowls freshly washed, but needing some moisturizing and color enhancement.  They were dry and rough in some spots where the color had faded.
Now, after a bit of rubbing with the coconut oil mixture, the bowls are darker (still some texture difference) and conditioned.  I will need to take some sand paper to the texture difference and then re-oil for more consistent look.  I wasn't too concerned with that – it's character and cool wood grain appeal to me.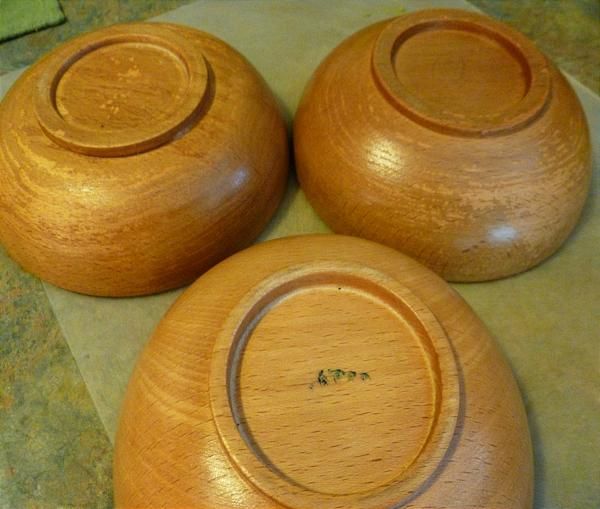 Wood polish/ conditioner recipe:
1/2 cup coconut oil – softened or melted


several TBS. of finely ground left-over Organic coffee grinds
Mix together and let cool a bit.  Use a paper towel or rag (one that you will dedicate to this polish) and go tackle any wood around your house to brighten and enhance.  Any left-overs, I leave in this glass bowl and slip inside a zip lock baggie for storage under kitchen sink.  If the house is cool inside and your mixture is hardened, just heat over low heat, stir and use.  Any tiny sediment from the grinds can gently be brushed off wood after application.
NOTE:  Be sure and dust area before applying polish.  🙂
♥ For more healthy living and organic gardening tips, quick recipes, what I'm eating and inspirational quotes, LOVE me on Facebook and Subscribe to my YouTube Channel. Lots of fun stuff!

May the GREENS be with You! and Be Inspired!
Kibby